KENYAN CHILDREN HELP supports the NEW WHITE HOUSE ACADEMY               in Voi / Kenya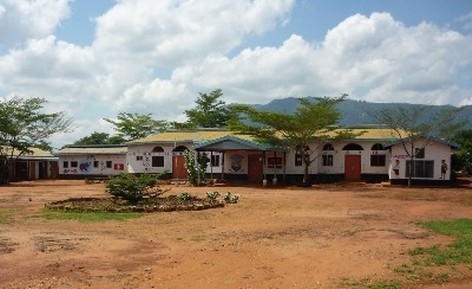 The "NEW WHITE HOUSE ACADEMY" is located 10 km from Voi town and just along the Mombasa-Nairobi highway.
The school is on the foot of the Sagala Hill, a historic place because of the First World War. The campaign there between the Germans and British East Africa took place between 1914 and 1918. Dating back in the olden days, the Sagala people during the migration chose to settle at this place due to the hill's altitude of 1600 meters and as such it provided safety for them against their enemies since they could be spotted from very far.
There are many small places in this region without good schools and the few public schools are usually overcrowded and under staffed. It is common to find one to two hundred pupils in a classroom and all these pupils are taught by a single teacher. Moreover there is lack of adequate learning materials and most of the public schools are in desperate need of renovations and additional teaching staff.
In this area many families have up to ten children with little or no reliable source of income. Therefore they can't afford to buy necessary school needs like uniforms and stationery. Although primary education is free and compulsory, most children do not get proper education due to the poor quality and standard of the education offered.
The "NEW WHITE HOUSE ACADEMY" gives destitute children and their families in a poor but beautiful region the advantage to get good education and give them hope for a brighter future.
"NEW WHITE HOUSE ACADEMY" is a Boarding School with Primary and Secondary School, registered in Kenya. Arround 300 children from different regions of the country lives at the school, they learn diligently, and they are active and successful also in sporting terms. They get enough healthy food every day and arround 50 employees (teachers and auxiliary staff) are taking care of them all arround the clock. Many orphans will find a new home at "NEW WHITE HOUSE ACADEMY"