In memory of Annedore Biberstein
We sadly had to say goodbye to our dear Annedore Biberstein, who passed away suddenly on November 17, 2021.
With all her energy, her big heart and her always positive attitude to life, she managed to build the NEW WHITE HOUSE ACADEMY and thus gave many children a better future. As the "mama" of the school, she was always there for the worries and needs of the children, the employees, but also the population in Kenya and has never given up fighting for justice.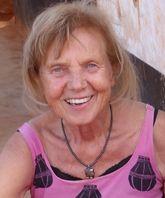 Annedore leaves a huge gap - we always remember her with love and great gratitude and will do everything to continue her life's work in her spirit.
All together and with your continued help we will make it!
Annedore Biberstein is both, President of KENYAN CHILDREN HELP as well as the Director of the NEW WHITE HOUSE ACADEMY... but first of all
With love and patience she takes care of all the children, she is always willing to listen to the teachers and staff, talk to the families of the children and she is always open to a conversation with the people from the area. But she is also negotiating from charming to vigorously, but always successful, with Public authorities, ministers and businessmen, always concerned for getting the best for the school.
Mama Annedore lives next to the school, always and often around the clock she is taking care for the welfare of children. She loves to get a visit from friends and in her house guests from around the world are welcome. With joy she leads her guests in the school and the cheerful children always touch the hearts of the visitors.
Mama Annedore also has a big heart for animals and a life without dogs and cats would be inconceivable for her. That's why the NEW WHITE HOUSE ACADEMY is also home to many other animals such as chickens, ducks, goats or the donkey Libux .
Mama Annedore leads the school with a lot of heart and mind. Thanks to her tireless efforts she has made it in a very short time, to turn an abandoned plot to a wonderful school where around 200 children are learning cheerful and happy and also living there carefree. For many orphans the NEW WHITE HOUSE ACADEMY became a new home.