A secondary school for the
NEW WHITE HOUSE ACADEMY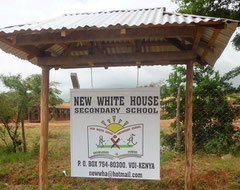 In the end of 2015 the oldest kids of the NEW WHITE HOUSE ACADEMY have reached the 8th class and thus the end of the primary school. Now this would be the point to take their lives into their own hands and take care of themselves.
We think this is far to early, this is why we made every effort to offer a secondary school to the kids. Our goal is to grant them a better scolar education for their life cycle! In addition, we can take care of them for 4 more years while they can grow up to be mature young people.
Thanks to numerous donations, we managed to start building the secondary school! A new building complex had to be created, along with classrooms it needs a library, a laboratory for the chemistry classes, a computer room .... and also staff and administration rooms. Furthermore, separate bedrooms for boys and girls have to be built for these elder children, with sanitary and showering facilities.
We are very happy that we were able to start the lessons for the first secondary-class - but:
There is still a lot to do!
The secondary school will be expanded in stages and continuously enlarged accordingly to our financial capabilities.
To do so, we strongly need your support in the future!!! 
Every donation is important and helps to provide a better future to the children in Kenya. 
Thank you very much for your help
The secondary school is rising
Impressions and development of the construction
The construction continues ...... please come to visit us again
2017 - it goes on... at the same time on several construction sites!
-> The main building will be extended by a upper floor to create space for further teaching rooms.
-> The boys will have their own sleeping room with integrated showers / sanitary facilities.
-> A dining room with kitchen is built.
We are very happy and extremely grateful that we have been given the opportunity to tackle this construction work and to complete the secondary school now with the most important premises and buildings.
We were able to start the teaching in the first secondary school class of the NEW WHITE HOUSE SECONDARY SCHOOL in beginning of 2016
Wonderful: The NEW WHITE HOUSE SECONDARY SCHOOL receives solar engergy !
forward .... step by step
helping hands everywhere .... 
Starting the construction on november 3 2015