Annina's journey to Kenya
In Summer Holiday 2015, 12-year-old Annina has spent a whole week at Mama Annedore and the kids of NEW WHITE HOUSE ACADEMY.
Beforehand, in Switzerland she collected money for the School. Her impressions and what she could buy with the money you will find in a nice booklet, supplemented with great photos of the Safari she made together with her parents.
Sorry - only available in German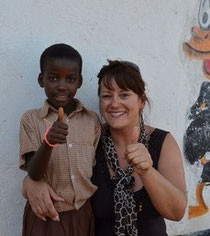 Manuela Leo
Manuela is very happy about sponsoring Nyamula.
Thats why she was travaling to Kenya to visit Nyamula.
After this she made her own Homepage.
Please read her story at
Ruth und Arthur Zbinden
Christmas 2011 our daughter Hanna surprised us with the question if we wanted to travel with her to Kenya during Easter. Spontaneously my husband said yes and with this answer he fulfilled a long cherished dream, whilst he would join me. At 77 years old I was able to have the experience of a lifetime-travelling to Kenya for the first time.

Arriving at The New White House Academy we were overwhelmed how welcoming the children were. Happy children from very poor homes who are happy to be at school. They are aware that going to school opens up a better future. A big impression on us were the simple facilities. In the laundry room all the clothes and bed linen is washed by hand.  In the kitchen simple meals are prepared in big pots. In the dining area every child waits patiently for the food but not before washing their hands. The clean dorms filled with handmade wooden bunk beds in which 2 kids sleep because of lack of space.  All the children are monitored by carers. What made a big impression was the carpenter  workplace where the carpenter makes beds, desks and tables with very simple tools. Such a difference from the joinery in Rüschegg, our home for the past 52 years. We are very fortunate to have accurate tools and machines!

All 10 teachers and 22 employees are locals who are happy to make a small living. Most of them live in the school area so they can also help the children after school hours and help with the care.

Conclusively I can only wish that many donors can fulfil the wish list:
Extension of the water pipeline (there is still no running water). Water is being brought by truck which costs a lot of money.
New beds, mattresses and desks are necessary.
Long-term plan is to build enough new dormitories.

Filled with overwhelming impressions and experiences we travelled back home after 2 weeks. With pleasure we talk about our experiences in Kenya and really want to support Kenyan Children Help. We hope to receive many donations to help "our children" to receive a good education in a safe environment at The  New White House Academy.

Our daughter Hanna, her friend Annedore and all the people helping have our respect and we wish they will have the strength and courage to cope with this big mission.

Ruth Zbinden

What a joyful day for the children of      NEW WHITE HOUSE ACADEMY :-)
 The school trip in August  in the Tsavo National Park
was very impressive.
Heading into a large bus they have seen many animals up close and have an unforgettable day.
Visit of Hanna Zbinden in November  in the new school NEW WHITE HOUSE ACADEMY in Voi
In November 2011, I got to visit "our" children for the first time in the new environment in Voi. Since two months, they were attending classes in the NEW WHITE HOUSE ACADEMY, which had developed to a boarding school. This means that the children could also stay overnight and find a new home during schooltime.

Several renovations and repairs on the existing but for quite some time abandoned buildings were and are still necessary. Thanks to the tireless dedication of Annedore Biberstein, the move-out of the former small school worked out quite well. She planned, organised, controlled and traded with the authorities and workers in endless discussions…

The result was deeply impressing.
Thank-you Annedore!!!